The Benefits of Frankincense Oil for Your Skin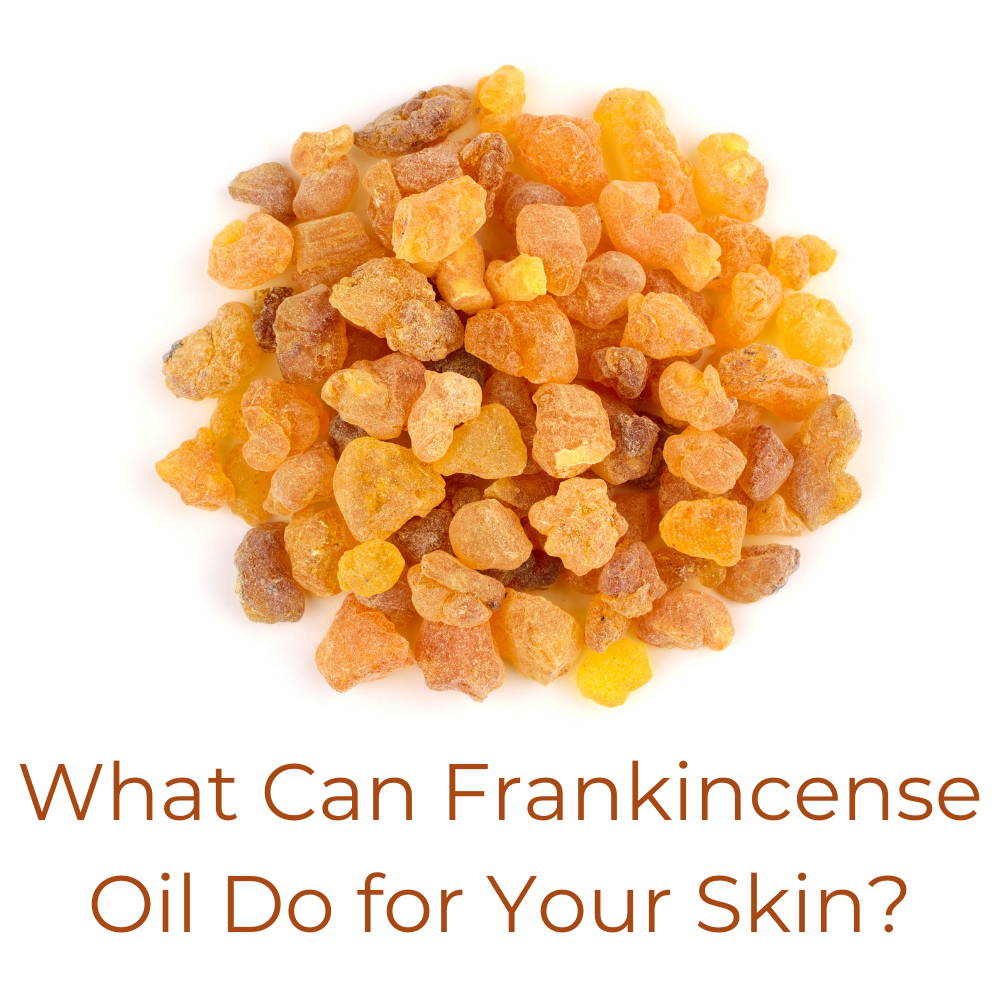 What is Frankincense Oil? An Ancient Beauty Oil Used Throughout the Ages...
Frankincense oil is derived from the resin of the Boswellia tree and is renowned for its beautifying, healing, and anti-inflammatory properties.
One of the main components in Frankincense oil is boswellic acid, a powerful phytochemical that has shown incredible potential in both the medical and skin care industries.
Long used in Ayurvedic medicine, the story of Frankincense oil is infused throughout our history, from biblical references to rumors that it was one of the essentials of the beautiful Cleopatra's beauty routine.
Through the years, we have only come to learn more about this incredible oil, including the many ways it helps to heal and beautify the skin.
What are the Benefits of Frankincense Oil & What Will My Skin Experience?...


Moisturizing Skin & Cellular Rejuvenation
Frankincense oil, especially when combined with a high-quality skincare product or carrier oil is wonderful at moisturizing and protecting the skin. Frankincense supports healthy cellular regeneration, which is necessary to slough off all those old, dry skin cells that are stealing vitality from your complexion.
Reverse Skin Damage & Help Skin Look Younger
Frankincense oil earns a spot in the category of miracle workers among natural skincare ingredients. This simple oil has shown an ability to reverse skin damage and help skin look younger and more vibrant than some more expensive, more invasive treatments.
This isn't to say that Frankincense oil immediately erases all signs of aging, but with regular use, the antioxidant components of Frankincense have been shown to combat early signs of aging, minimize wrinkles, and smooth fine lines.
The powerful antioxidant content of Frankincense oil fights free radicals, which are molecules that go around trying to weaken the integrity of healthy cells – including skin cells.
Sun-damaged skin is one of the most common types of free radical damage regarding skin health, but the simple passing of time also allows free radicals a chance to weaken skin cells, degrade collagen, and cause your skin to lose some of its youthful glow.
Applied topically, frankincense oil helps release antioxidants that work quickly to stop ongoing free-radical damage while supporting healing and repairing some of the damage that has already been done.
Reduces Inflammation, Redness, Swelling
One of the keys to younger, healthier-looking skin is to reduce swelling and soothe areas of redness, both of which become more common as we age.
Preliminary research has shown that Frankincense has the potential to inhibit the release of leukotrienes, which are key in the biological pathway of any type of inflammation. By inhibiting leukotrienes in skin cells, Frankincense oil helps to reduce redness, puffiness, and discolorations that can add years to your skin.
Kill Skin Damaging Bacteria & Toxins that Cause Breakouts & Premature Aging
Frankincense oil has natural antiseptic and anti-microbial properties, meaning it's great for killing germs. This is great if you have the flu, but it's also beneficial for skin health.
Bacteria thrive on the surface of your skin and in your pores and hair follicles. While certain types of bacteria are beneficial, others can cause havoc in the form of acne and other skin irritations.
Skincare formulas that feature Frankincense oil can be especially beneficial for those dealing with adult acne. Frankincense delivers a powerful one-two punch of knocking out acne-causing bacteria while moisturizing and delivering anti-aging benefits.
How You Can Safely Use Frankincense Oil On Your Skin
One thing to remember about any essential oil is that they are all very concentrated and powerful. There are only a few essential oils that can you apply undiluted to the skin without the worry of causing irritation.
If you want to apply Frankincense oil to your skin, make sure to dilute a few drops in a carrier oil, such as jojoba, avocado oil, coconut oil, etc.
Another way to use Frankincense oil is to let someone else handle the chemistry for you, and choose a great, high-quality skincare product that combines other synergistic natural ingredients, like this SIBU Luxe Oil, which is a luxury oil blend that combines rich, healing oils that hydrate, heal, and repair for beautiful skin.
Your skin tells the story of who you are. Treat yourself to a little luxury and let Frankincense oil help reveal gorgeous, healthy, and youthful-looking skin.
References:
https://www.ncbi.nlm.nih.gov/pmc/articles/PMC6747466/
https://pubmed.ncbi.nlm.nih.gov/27117114/