The SIBU Sea Buckthorn Exfoliating Face & Body Scrub is Back!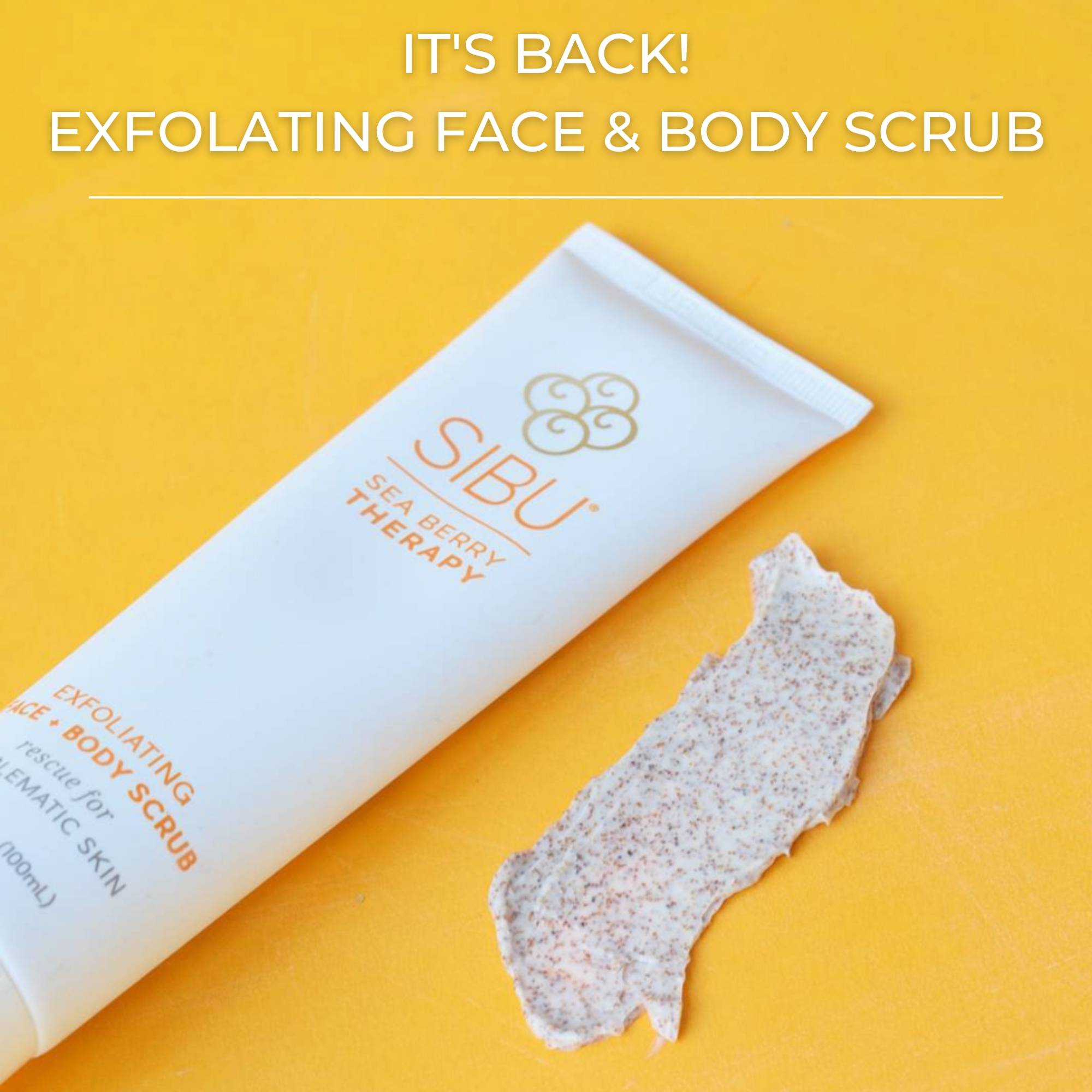 Rough, Dull, Dead Skin Has Met Its Match
Spring is right around the corner, which means- you guessed it- it's time to bust out those shorts and tees, and maybe even slip into a bathing suit!
But those cooler months take their toll on your skin. After so many months buried under layers of clothes without enough chance to breathe, many of us end up greeting spring with rougher, duller, more problematic skin than we left it at the end of summer.
Enter: SIBU Exfoliating Face and Body Scrub! In one use, this all-natural scrub perfectly buffs away rough, dead skin, revealing soft, supple, and smooth skin. Also amazing for frustrating face and body breakouts, our new Exfoliating Face and Body Scrub is your spring's must-have addition to your skin care routine.
Apricot Seed Powder Leaves Behind Baby Soft Skin
A gentle scrub is a valuable asset to any skin care regimen. Oftentimes, dead skin builds up on our bodies, which not only leaves skin looking and feeling more rough, but also blocks necessary absorption of serums and lotions. Apricot seed contains essential fatty acids and antioxidants that can help to nourish and protect the skin, leaving it looking and feeling healthy and refreshed.
All-natural and soft enough to not cause any micro-abrasions, apricot seed powder leaves behind super smooth skin, ready for additional soothing hydration from your favorite SIBU Nourishing Daytime Facial Cream
Apricot seed powder isn't just safe & effective for your skin. Because it comes straight from the apricot seed, there are no synthetic microbeads in this scrub, making it an environmentally safe choice as well.
While Sea Buckthorn Heals & Protects
Integral to all SIBU formulations, sea buckthorn plays an important role in this Exfoliating Face and Body Scrub. This scrub features both the fruit extract and oil from this superfood berry.
Sea buckthorn is an incredible skin healer and anti-ager. With strong anti-inflammatory properties, it is amazing for targeting acne, stressed skin, eczema, and dermatitis. Sea buckthorn also contains vitamins A, C, and E- great for antioxidant protection and skin brightening.
The Skin Benefits of Using a Facial Scrub:
Smooth, Even Skin Texture: by removing dead skin cells and impurities, the SIBU Facial & Body Scrub helps to smooth and refine your skin's texture, leaving it looking and feeling soft and smooth.

Brighter, Radian Complexion: exfoliation can help brighten the skin and reduce the appearance of dark spots and hyperpigmentation, giving the complexion a more even and radiant appearance.

Skin Care Products Work Better: when dead skin cells and impurities are removed, skincare products such as moisturizers, serums, and treatments can penetrate the skin more deeply and be more effective.

Unclog Covered Pores: by removing dead skin cell build up, a face and body scrub can help to unclog pores which can reduce the risk of acne breakouts and other skin issues.


Commitment to Unsurpassed Quality
Our hallmark is in our unwavering commitment to incredible quality. Starting from the source, we only harvest our sea buckthorn berries with fair trade practices. By solely employing co-ops of local women to harvest by hand, SIBU is able to maintain the environmental wellbeing of this natural Himalayan resource and enable these women to support their families all year round.
Oftentimes, vital components of sea buckthorn can be lost in the manufacturing process. SIBU uses only supercritical CO2 extraction to ensure all necessary nutrients remain throughout the whole production. All sea buckthorn oils are then tested by two independent laboratories to guarantee the highest quality, most efficacious sea buckthorn in the world!