3 Herbal Hair Rinses to Boost Shine & Scalp Health Naturally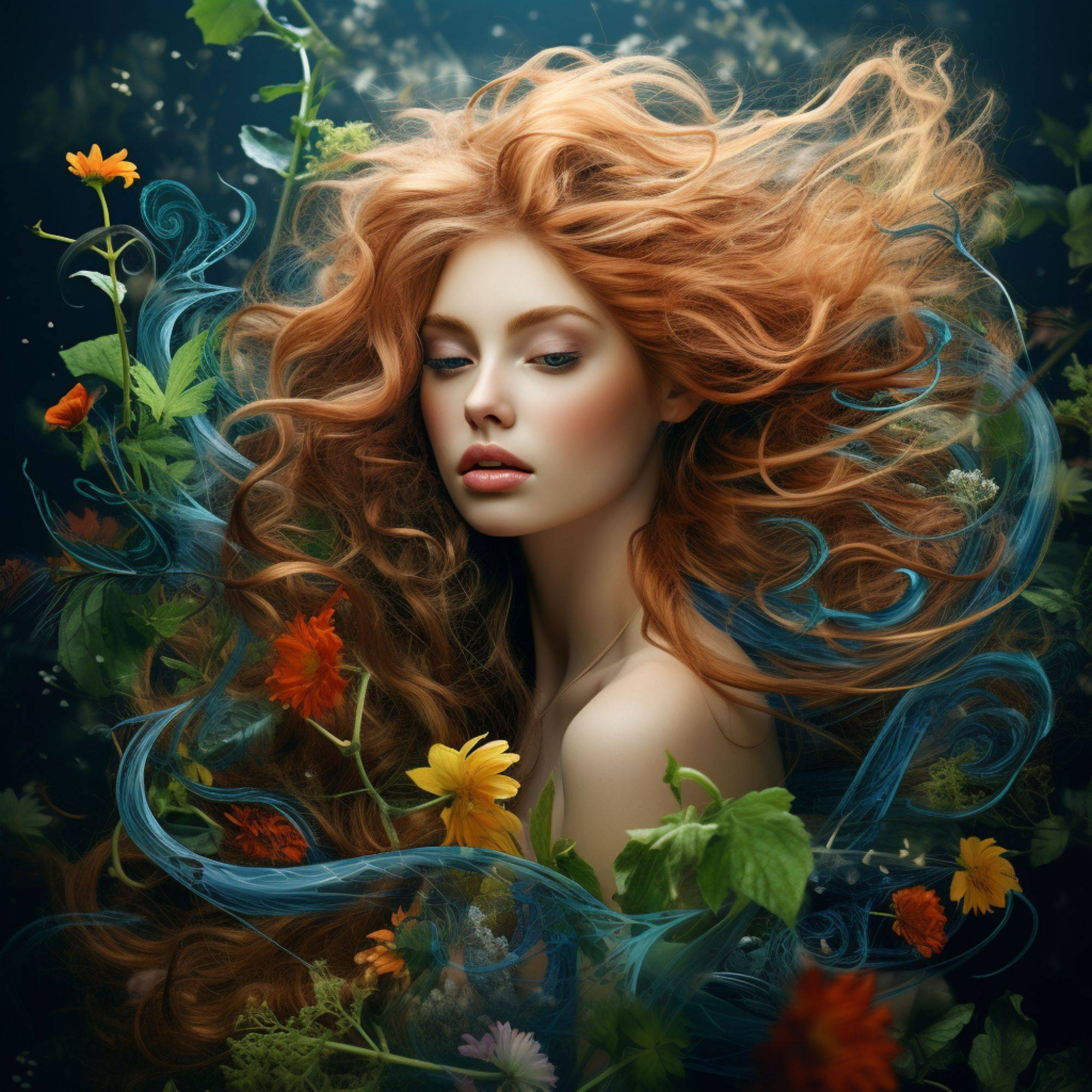 Natural herbal hair rinses can help you achieve the beautiful, healthy hair that you desire...
Commercial shampoos and hair styling products are often filled with chemicals that actually cause more harm than good, stripping hair of its natural oils and interfering with the scalp's natural ecosystem. A natural hair rinse can help restore balance plus protect and restore each strand of hair.
Ditching Your Conditioner for a Herbal Hair Rinse
You can use both conditioner and an herbal rinse for your hair, but you'll likely find that it's not necessary. We've been conditioned to believe that our hair needs conditioner (that pun wasn't even intended).
However, even your most beloved hair conditioner might be damaging your hair. Conditioners are filled with ingredients that seem to perform miracles in the short-term but, over time, tend to cause more problems for your hair.
If you've ever fallen out of love with your favorite conditioner, chances are one of these was the cause of your breakup.
Overconditioning your hair, meaning using too much conditioner, conditioning too often, or failing to rinse it all out, can weaken and damage hair over time. This leads to dull, lackluster hair.


Using the wrong type of conditioner for your hair will only exaggerate the hair issues you're trying to solve.


Conditioner that doesn't work with the pH and natural ecosystem of your scalp can lead to dandruff, oily hair, and itchy scalp.



Certain ingredients that are common in conditioners, such as silicone, can build up over time, creating a coat that damages your hair and is difficult to remove.
Herbal hair rinses, on the other hand, don't contain any ingredients that build up on your hair, and most hair rinses are ideal for any type of hair, with the exception of a few that are specific to certain scalp and hair concerns.
Herbal hair rinses remove build-up, infuse hair with moisture, protect, and smooth. After several uses, when the hair rinse has had a chance to repair the damage from harsh hair products, your hair begins to reveal a beautiful shine and brilliance.
Natural hair rinses also support a healthy scalp. Many herbs, like rosemary, have antimicrobial properties and are good for removing excess oil and dead skin cells without stripping the scalp completely of oils.
Gently massaging the rinse onto the scalp helps to encourage circulation and blood flow, which is great for the health of your scalp and your hair. Plus, they're all-natural, and you're not risking exposure to the toxins and endocrine disruptors that are in so many commercially produced hair products.
How To Make & Use Herbal Hair Rinses
Herbal hair rinses are easy to make and use, plus you're 100% in control of what goes into them. The most basic herbal hair rinses are really just strong herbal tea. Herbals are infused in purified water and let sit for several hours.
Then, depending on your hair type, apple cider vinegar or essential oils might also be added to the mix.
We're fans of adding moisturizing and protecting ingredients to our natural hair rinses, sea buckthorn seed oil being just one example. The oil from sea buckthorn seed has been used for health and beauty purposes throughout time.
It contains nutrients, antioxidants, fatty acids, and proteins that support the hair's structure, keeping it strong, smooth, and healthy. If your hair is prone to breaking or thinning, or you just want shinier, healthier hair, sea buckthorn seed oil should be in every one of your herbal hair rinses.
How you use your hair rinse is up to you. Some people apply the rinse and let it sit while they're in the shower, rinsing it out before they get out. You might also choose to let it sit for several hours or not even rinse it out at all for a deep conditioning treatment.
3 Herbal Hair Rinses To Try


Hair Rinse for Scalp Massage: This is a deep conditioning rinse that's great for scalp health and boosting shine and softness.
2 tablespoons melted coconut oil

2 tablespoons extra virgin olive oil

1 teaspoon sea buckthorn seed oil

5 drops of rosemary essential oil

5 drops of tea tree essential oil
After combining all of the ingredients, massage the oils into your scalp, working through to the ends if your hair is dry. Cover the hair and let it sit for up to an hour. Wash hair with a mild shampoo and warm water. Follow with a simple mix of equal amounts of apple cider vinegar and water for extra shine.
Herbal Hair Rinse for Shine:


Place the chamomile tea bags in a quart of boiling water and let sit until the tea is lukewarm. When ready to use, add the apple cider vinegar and sea buckthorn seed oil. Mix or shake well.
After washing and rinsing your hair, pour the rinse over your hair from scalp to ends. Gently work in. Leave in and style as usual, or rinse gently after ten minutes.
Coconut Milk & Lavender Pre-Shampoo Hair Rinse:
2 cups unsweetened pure coconut milk
2 tablespoons dried lavender or 10 drops lavender essential oil
1 teaspoon sea buckthorn seed oil
Gently warm the coconut milk over medium heat until it becomes steamy (if you're using essential oil instead of dried lavender, you can skip this part( Remove from heat and steep the lavender for 30 minutes. Next, remove the lavender flowers if using, and stir in the sea buckthorn seed oil.
Apply to your hair from scalp to ends and let sit for 30-45 minutes before washing.
Herbal Hair Rinses for Renewed Shine & Vitality
When we have a problem, Mother Nature often has an answer. If you're tired of picking up your conditioner bottle and finding a list of ingredients that are less than pure, we encourage you to try your hand at herbal hair rinses. They can restore the health of your hair and scalp, especially with super-powered, protecting, and moisturizing ingredients like sea buckthorn seed oil.