3 SIBU Skin Care Products to Age Beautifully, Naturally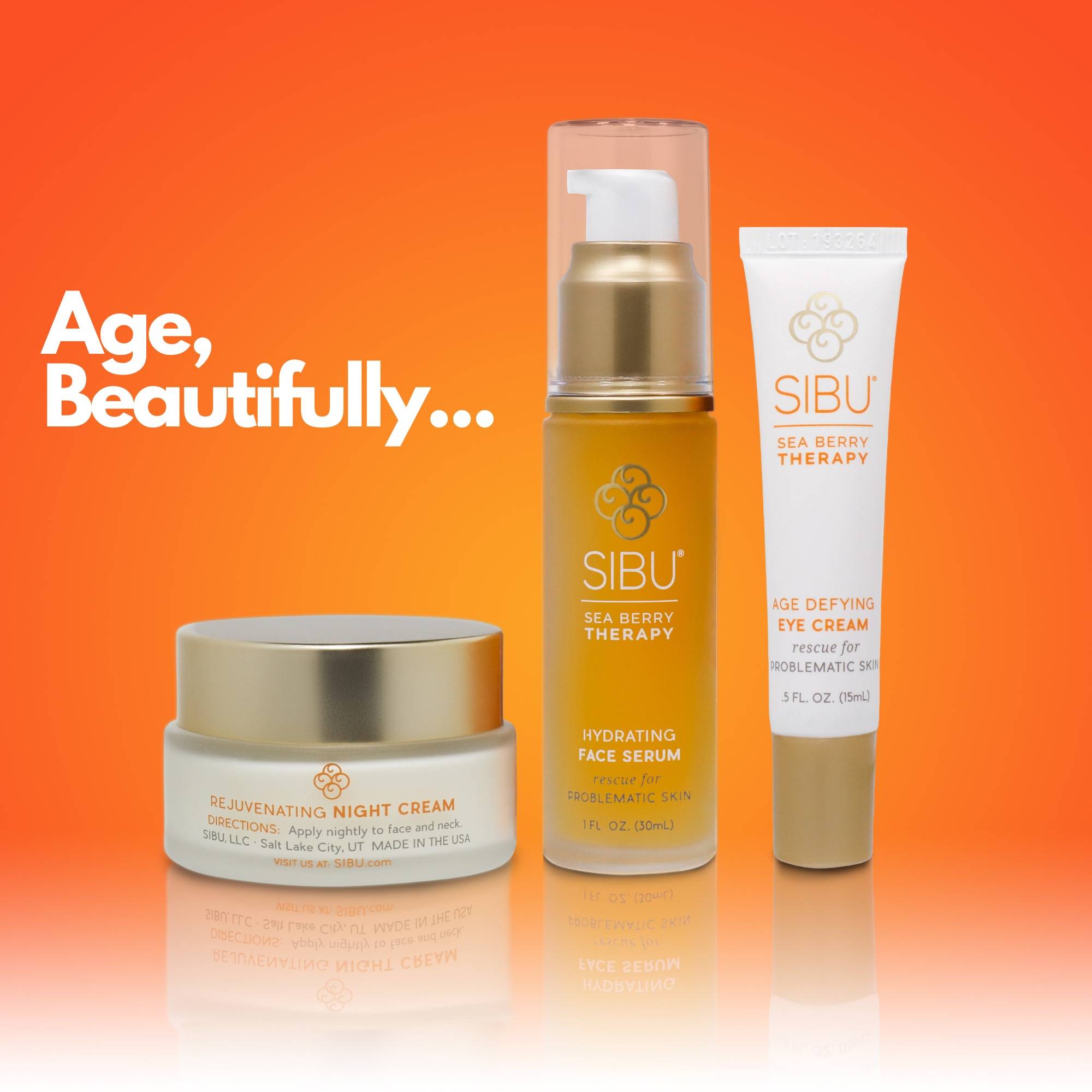 Youthful Aging, It's Real
You've got your basics. Your cleanser, your moisturizer… hopefully even a daily SPF. But as we get older and our skin starts to mature, it needs increasingly intensive support from products targeted to really address the needs of maturing skin!
Aging as Early as Your Mid Twenties?
Starting much earlier than you might imagine- as early as our mid twenties!- our skin's natural renewal system begins to slow down.
Over time, as it continues to slow more and more, we begin to truly notice the effect this has on the appearance of our skin, especially on the face. The skin begins to get thinner and crepier with less of that youthful volume and suppleness. Gravity takes its toll and we notice the skin becoming more saggy with less mass to hold it up. Lines and wrinkles form, sun damage from earlier years pops up, and our skin feels more dry and flaky.
No matter your age, caring for your skin now will make the biggest difference in how your skin matures. Not caring for your skin now can cause premature aging!
The most important approach to addressing aging skin is to focus on keeping it healthy. As early as possible, make sure you are using sun protection. This prevents a lot of damage to the skin before the effects are more visible and pronounced. Stepping up your skincare routine to meet the needs of your skin as it evolves is also critical. This means adding in products that are going to provide more nutrients, hydration, and smoothing to target the issues that arise from maturing skin.
Youthful Aging All Star Trio
Not sure where to start? Give these luxurious anti-aging staples a try! Featuring the highest quality sea buckthorn, SIBU's hero ingredient, the following formulations are sure to keep your skin looking youthful and healthy.
Less Wrinkles While You Sleep | SIBU Rejuvenating Night Cream
Adding a night cream to your regimen is the first step to honing in on maturing issues. Night creams differentiate themselves from regular moisturizers by sealing in deeper hydration with a thicker formula and a focus on rejuvenating the skin while you sleep. Rejuvenating Night Cream is a must if you want to wake up feeling hydrated and renewed! In addition to sea buckthorn oil, this emollient cream includes Brussels sprouts, wasabi, lemongrass, and various leafy green extracts to smooth the skin and diminish signs of aging. Shea butter, aloe, and natural oils deeply hydrate and nourish the skin and bergamot and citrus essential oils make this night cream a dream to apply.

No More Dark Circles or Puffy Under Eyes | SIBU Age Defying Eye Cream
Usually the first to show signs of lines and aging, the eyes are an early giveaway of our age. Delicately formulated for the eye area, the Age Defying Eye Cream boasts the cruciferous veggie blend featured in the night cream, plus hydration-binding Hyaluronic Acid. Of course, including the do-it-all anti-aging sea buckthorn oil, this eye cream targets inflammation and puffiness in the eye area, pesky dark circles, and frustrating "crows feet" and expression lines.
Stimulate Collagen, Increase Elasticity | SIBU Hydrating Facial Serum
If your routine doesn't include a hydrating serum yet, now is the time to add it in! With a lighter formula to penetrate deeper into your skin, serums are invaluable to boosting the efficacy of your whole routine. The Hydrating Facial Serum repairs the skin at a cellular level, boosts collagen production, brightens the skin, and minimizes and prevents lines. Sea buckthorn plant and seed extracts are the true rockstars of this serum, with hydrating Hyaluronic Acid and nourishing algae and mugwort extracts balancing out this essential product. Hydrating Facial Serum can be used morning and night. Apply after cleansing and before applying your Nourishing Face Cream or Rejuvenating Night Cream for the perfect youth rejuvenating routine.